University sponsored groups may have move-in dates that differ from the above-mentioned schedule. Please refer to your move-in emails for dates, times, locations, and instructions for your specific move-in.
---
Before you Arrive
Schedule a Move-in Appointment
Be sure to check your email to schedule a move-in appointment. After you receive your housing assignment you will be able to login to HMS and schedule a move-in appointment that works best for you. Please note, move-in appointments are required.
Our team is excited and ready to welcome you to campus. As you are finalizing your move-in plans, consider connecting with your roommate to coordinate arrival information and identify who will be helping you on this big day. Consider keeping your move-in team to a minimum to create a welcoming experience for all Gators!
---
Read the Community Standards
The Community Standards is your guide for what items you can bring and expectations for community living. Be sure to check it out before you arrive on campus!
Print your Unloading Pass
Have your Unloading Pass ready when you arrive. To print yours
Visit hms.housing.ufl.edu and login 
Click on "Move-in Appointment"
Select "Fall 2022"
Finally, click the blue box that says "Print Unloading Pass"
Review the Packing List
We have designed a comprehensive packing list for all residence hall essentials. Be sure to download it and check off your items as you pack! If you are looking for an easy and convenient linen option sent right to your room, be sure to check out Our Campus Market below!
Arriving to campus
Directions to Your Hall
Move-In maps will be your guide on how to navigate campus.
Some roads may be closed for ongoing campus improvements. Please use the provided maps below to find the best route to the unloading zone of your new home. Staff will be available to direct you to your Area Office to check-in as well as your nearest elevator or staircase.
---
Input your text here! The text element is intended for longform copy that could potentially include multiple paragraphs.
Check-In and Unloading
As you arrive, have your photo ID ready. You will need it to collect your keys during the check-in process at your Area Office. Our staff will check you in and provide directions on how to locate your room. We encourage your support team to start unloading your vehicle while you check in. Carts will be available to check out or you are welcome to bring your own to speed up the process.
Please note, unloading zones are available for a limited time, and are intended for you to unload your vehicles quickly before moving to a long-term parking location. Vehicles in the unloading zones must not be left unattended at any time. Once your items are unloaded our staff will direct you to the nearest elevators or staircase as well as direct you to your parking location.
Please note, some of our halls do not have elevators or only have freight elevators. Freight elevators are limited to use by Housing staff. Staff will be able to transport one load on your behalf to your floor, so please plan accordingly. If you are unsure if your hall has an elevator please visit the features list on your hall's webpage.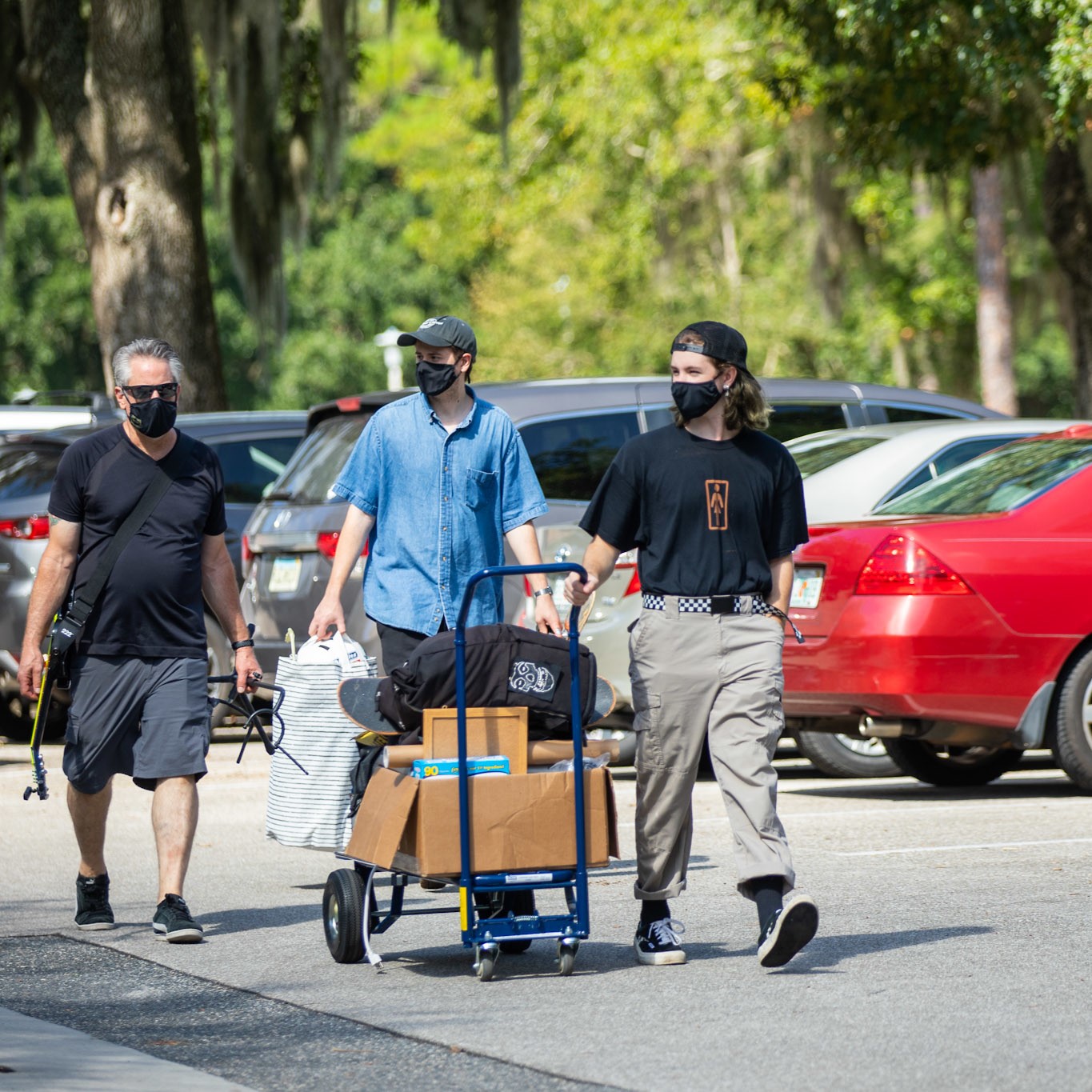 The On-Campus Experience
Resident Assistants
Resident Assistants (RAs) are undergraduate students who live in the residence halls and are friends, mentors, and resources. They will guide your experience as a Gator. If you have a question, need advice, are wondering how to submit an iService Request, or want to chat with someone who knows the ropes at UF and is excited about helping you achieve your goals, your RA is here for you! Be on the lookout for information regarding your first-floor meeting, and upcoming hall events.
Great Gator Welcome
The Division of Student Life welcomes you to the University of Florida with our annual Great Gator Welcome events! These events happen at the beginning of each semester and are always a blast. Grab your roommate or some new friends from your hall and catch a welcome event happening near you.
---